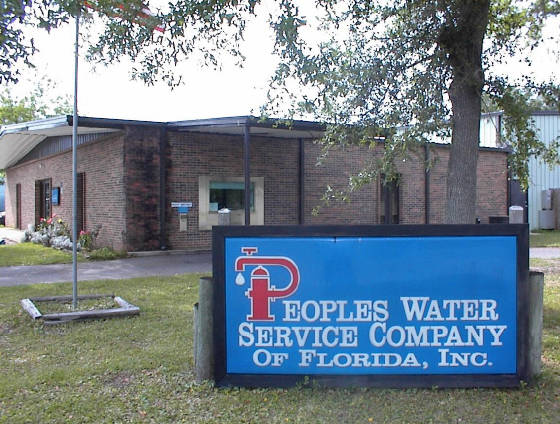 Welcome
Peoples Water Service Company of Florida, Inc. is proud to provide your water service. This site was created for our valued customers. Here you can find important information regarding your water provider as well as helpful tips. Please help us with the development of this site by sending us suggestions and/or comments on how we may be able to better serve you. Our company has grown with our community and we want you to receive service that is professional, courteous, and friendly.
We endeavor to provide accurate information but anything stated in the web pages may be superseded by governing regulatory agencies.
Important Message For Our Customers:
Peoples was granted authority to increase its rates by the Florida Public Service Commission (Commission) in March 2010. The rate Order authorized an increase in overall revenues by approximately 11.90%. This was the first comprehensive rate increase approved by the Commission since 1991, over 19 years.
Some customers have experienced significantly higher water bills because of the rate increase and below are reasons why: Conservation - Peoples' traditional rate schedule essentially charged less per unit of water purchased for each additional unit. The Commission and NW Florida Water Management District (WMD) want to encourage conservation of water. In order to accomplish this goal, the Commission ordered the implementation of rates that charge more per unit purchased for high consumption. Lifeline Rates - Rather than authorizing rates that would increase water bills the same percentage for all usage levels, the Commission modified Peoples' rate schedule so that:
Low consumption users (up to 3,000 gallons) would experience a decrease in rates;
Moderate consumption users (5,000 gallons) would experience a single-digit percentage increase in rates;
High consumption users (20,000 gallons or more) would experience a substantial increase in rates.
Peoples realizes the change from the traditional rate schedule to this new methodology is producing high water bills for its high consumption users and is sympathetic to those customers. However, Peoples must adhere to policies that have been adopted by the Commission and Water Management District. We hope this provides a good explanation of why your water bills have changed.
News / Current Events AUTOMATED METER READING IMPLEMENTATION
WHERE IS MY METER READER?
In July 2005, Peoples began a multi-year program to replace manual read meters with radio read meters. This investment was made to decrease meter reading costs, improve accuracy and decrease meter reader training.
Main Replacement Projects
Peoples Water Service takes progressive measures to ensure that a reliable supply of high-quality water is available for current and future generations. Some of these measures include water main Replacement projects. As a valued customer, we are pleased to share with you our plans to replace over 9,120 feet of water mains for the 2013/2014 fiscal year.